This article describes how to add or edit ads in your existing Taboola campaign. There are a number of reasons you would want to add or update your campaign's ads. You might need to edit titles or thumbnails, A/B test new titles or thumbnails, or update ads based on performance.

Make sure to review our Advertising Policies and ensure your ads are compliant before adding them to your Taboola campaigns.
Adding Items to an Existing Taboola Campaign
Navigate to the

Campaigns

tab in Taboola Ads.

Click on the green Create button and then click on Ads.




Here you can start building your ads. Start by selecting 'Variations' where your creatives will automatically pair with each of your headlines or 'One by One' or 'RSS'


Using an RSS feed is a great way to cut down on time creating multiple campaign items individually. When you upload an RSS feed to your campaign, the campaign items you add to your feed will automatically be added to your campaign! No need to input them directly into the campaign yourself.

You can use this, for example, if you want to add a new campaign item for every new page on your website. If you have an RSS feed that is continually updated with your new pages, simply use that RSS feed in your campaign.

Select the campaign that you would like to add your ads to
Add the Landing Page URL that you want your ads to click out to and make sure you see the green tick appear on the right.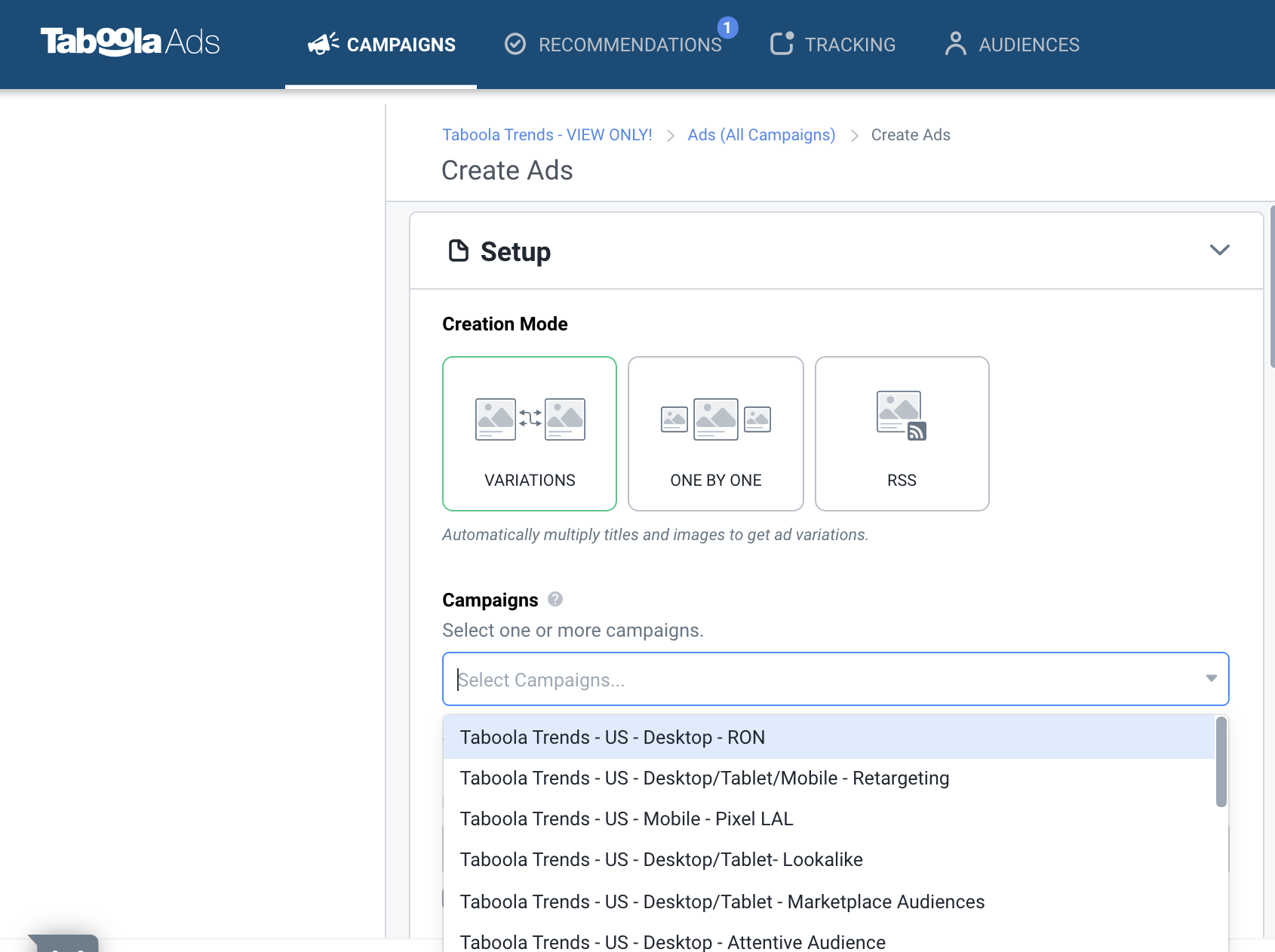 Now it's time to add your headlines. Follow the instructions to add your headlines, description and a CTA button.

Note!

The CTA button and Ad Description are optional
Finally, upload your creatives. These can be images, GIFs or videos. Once uploaded you will be able to preview all of your ads before submitting them!
You can then navigate to the Ads view in Taboola Ads to view them all individually:

Editing Items in an Existing Taboola Campaign
Navigate to the

Campaigns tab in Taboola Ads and to the Ads view as per the screenshot below

2. Find the ads you'd like to edit, and click on the pencil icon on the right. This will open up a drawer where you can edit all elements of your ad including the headline, URL, and creative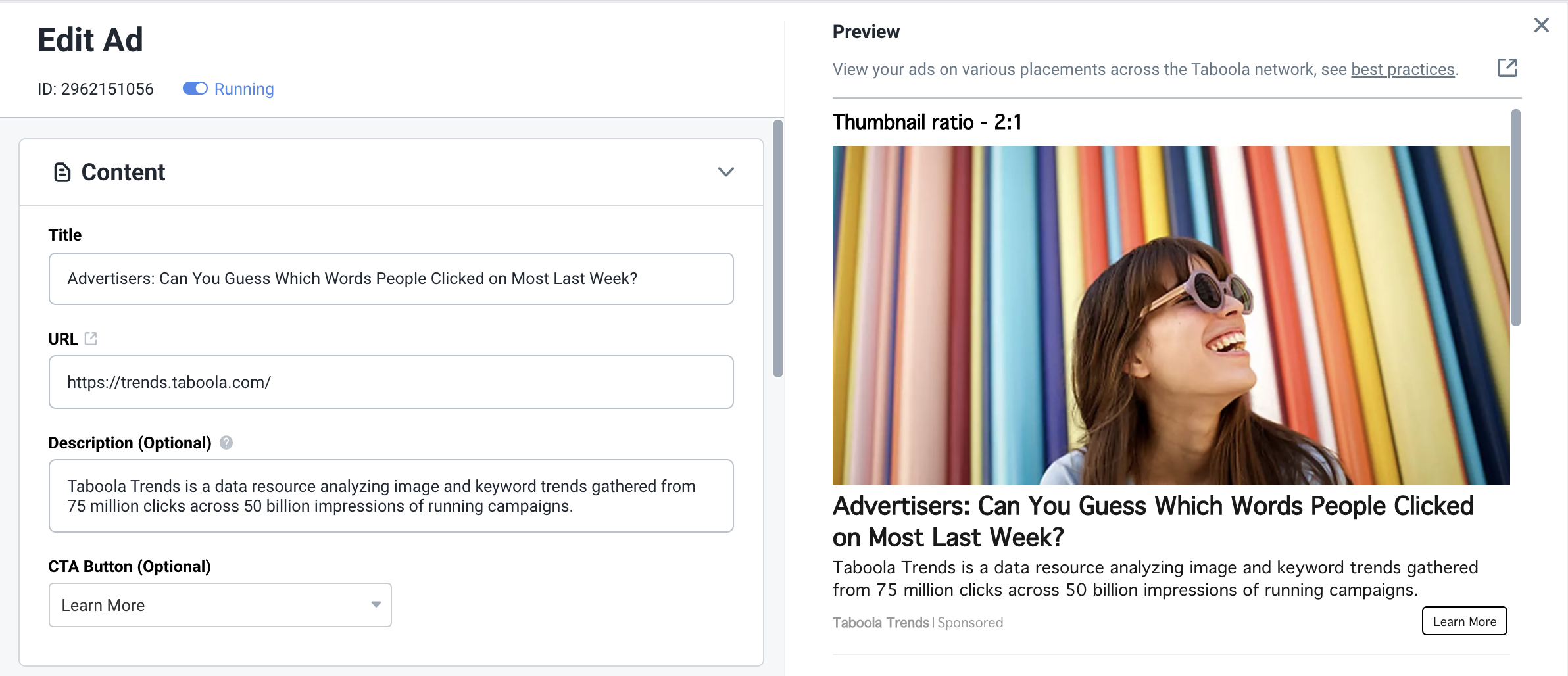 3. You can also edit your creatives in line within the Ads view in Taboola Ads. Here you can click on the small pencil icon next to the headline, image or URL to edit. Don't forget to click Save!



Lastly, please ensure that your image size and ratio are in line with our Creative Best Practices.

The Ad Status now reflects the Campaign Status.
In the past enabled ads would always say Running. Now, if the campaign is paused, depleted or expired, the ad status would reflect that.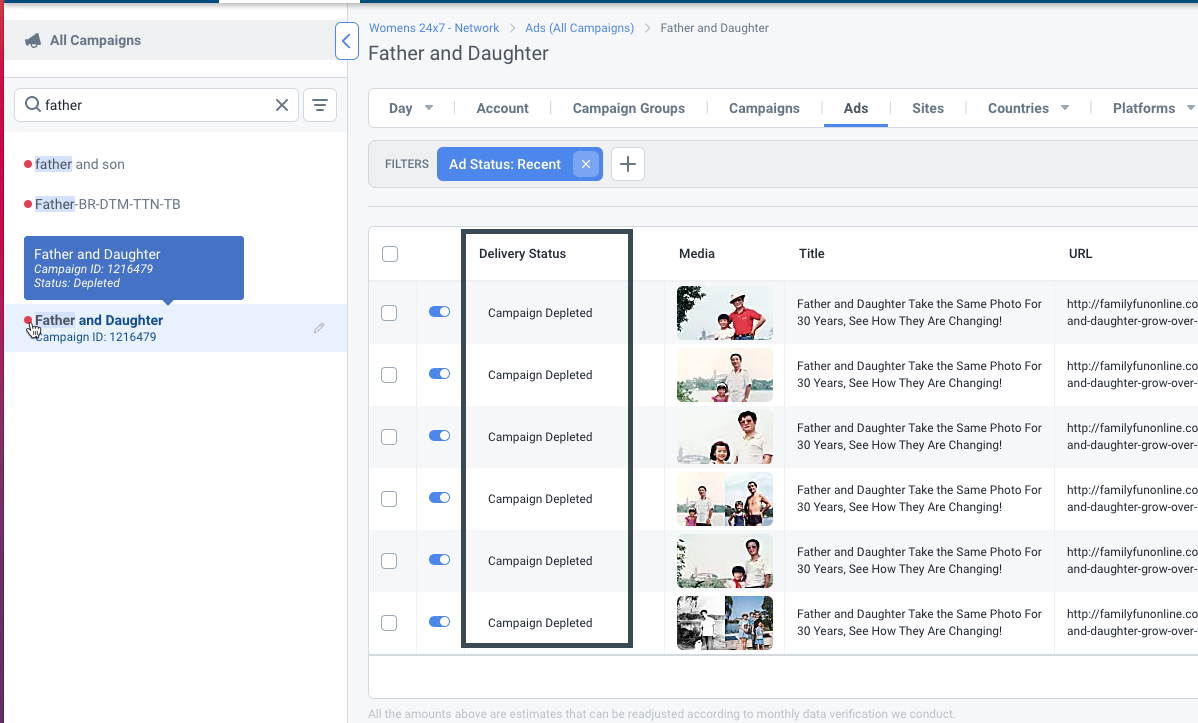 Important Note!
Each URL in a feed must have a title and thumbnail associated with it. Even if a single link within the feed is missing a title or an image, it will display a
Need to edit
status and will not go live until updated.
Important Note!
The campaign will dynamically reflect the items currently in the feed. So for example, if an item drops out of the feed after a day, it will also drop out of your Taboola campaign after a day. On the other hand, campaign items that were uploaded via an RSS feed will continue running until you manually pause them, or until they are dropped from the feed. We recommend setting your RSS lookback period as far back as possible, since our best practice is to keep as many items as possible active.