A conversion tracking code is a tool that allows you to track what happens on your website after a user has clicked on your campaign item. It can let you know, for example, if users are purchasing your product or viewing multiple pages of your website after they click. Before creating your conversion tracking code, learn more about what a conversion tracking code is and why you should use it here.


Create a New Conversion Tracking Code
To create your conversion tracking code, you can use Pixel Management in Backstage. From this page, you can easily generate your conversion tracking code.
To create a new conversion tracking code, do the following:
Go to the

Pixel Management page 




Click the + Add Pixel button





Choose the

type

. If you are tracking a website conversion (purchase, email submission, sign up), website action (button click, "add to cart" action), or video views, choose

Conversion

as your type. If you are tracking amount of pageviews, choose

Page-Views.




Enter the Action Name

. This is a mandatory field. We recommend using the term "conversion." You can also use a name that is indicative of the action; for example, "registration" or "purchase." 

Important note!

No spaces are allowed, so use underscores or dashes instead if needed (i.e., "newsletter_signup").

Important note!

"page_view" will auto-populate if you choose

Page-Views

as your code type.

(optional) If using

Conversion

as the code type, add in values for

Order ID

,

Quantity

,

Currency

and

Revenue

. 

Click

Continue
View and Save Conversion Tracking Code
After clicking Continue, you will be able to see two formats of your conversion tracking code: 
JavaScript (JS) Snippet

- The JavaScript code is the recommended form to use.

Image Tag (image pixel)

- This is a "one-line" version of the code that you can use in cases where you cannot use the JavaScript code.
Important note!
You do not need both of these codes. You only need to use one. There are two options since there are different scenarios where you may need to use one or the other.
To use the code, you can copy and paste directly from this page or use the Download button to send or save the code in a file. If you are sending the file to someone else to implement, please use the Download button and send the code as an attachment.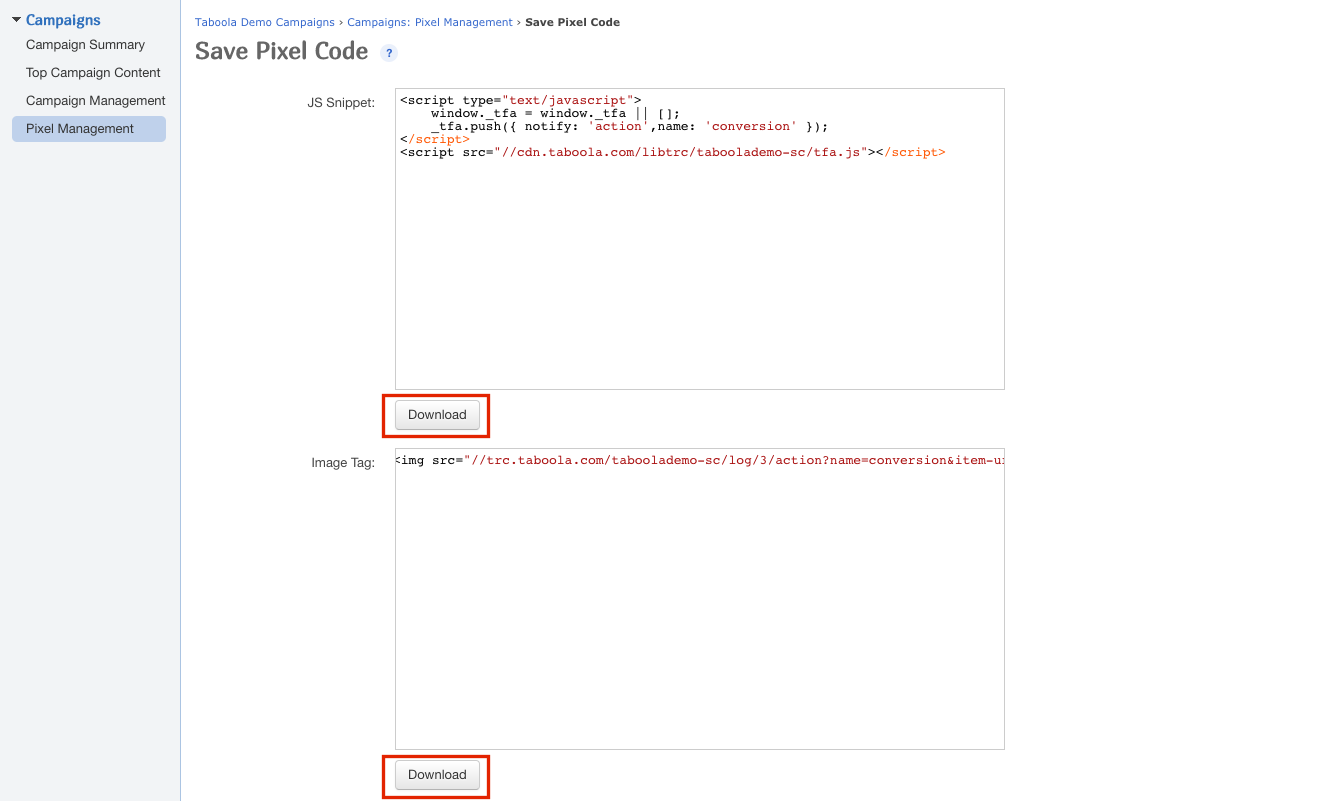 You're almost there! Learn how to implement your conversion tracking code here.
Pixel Management Page
Here, you will see all of your previously created conversion tracking codes (if there are any). The Type will be labeled Conversion or Page-Views if it is a conversion tracking code.

For each code, you'll find the following options at the end of the corresponding row:
Edit 

- Clicking this button enables you to edit your code.

Warning!

If you have already

implemented your code

on your website and edit the code, you will need to re-implement the code in order for the changes to take effect.

View 

- Allows you to view and download previously generated code

Delete 

-  This deletes the code.

Warning!

Deleting the code doesn't make it inactive if it's already

implemented on your site

. You will need to remove the code from your site if you would not like to use it anymore.