This product is in BETA. Reach out to your account manager or
support@taboola.com
for more information.
What is SmartBid?
SmartBid is Taboola's core machine learning algorithm that utilizes historic data to automate your campaign's bid. SmartBid is designed to maximize your campaign performance at scale.
What is Maximize Conversions?
Maximize Conversions is a solution of Taboola's SmartBid automated bidding strategy. Maximize Conversions aims to deliver as many conversions under your target budget.
Maximize Conversions is an automated bidding solution that optimizes for the maximum number of conversions at any given budget. For example, if you set a budget of $500, Taboola will maximize the number of conversions that can be generated under that budget, at the lowest cost.
This feature is best used when looking to understand your potential conversion performance via depletion of your budget. When users visit a website, Taboola will bid according to how likely a user is to convert at the lowest cost.
Who should use Maximize Conversions?
Maximize Conversions should be used when:
You are launching a campaign that is optimizing towards conversions: it is recommended to use Max Conversions as the default exploring method to understand your potential conversion performance via depletion of your budget

You want to focus on maximizing the number of conversions within your given budget

You are prioritizing conversion volume

You are spending less than your budget and need to deplete higher daily caps
Visit this page to better understand the available bid strategies on Taboola.
You must enable conversion reporting within Taboola Ads to use Maximize Conversions. Maximize Conversions is best paired with the
Taboola Pixel
, but is also compatible with conversions via
server-to-server
integrations
How is Maximize Conversions different from Target CPA?
Maximize Conversions and Target CPA are both conversion based bidding strategies aimed to deliver performance at scale, however they aim to do that in different ways.
Maximize Conversions optimizes for the maximum number of conversions under a given budget, whilst Target CPA locks in the CPA goal first and foremost and will not aim to deviate from it, regardless of seasonality or competition.
It may be the case that you are able to achieve your performance goals with Maximize Conversions (without setting a CPA goal), but Target CPA gives you the added assurance that the algorithm is prioritizing the CPA target over anything else. With With both bidding strategies, Taboola will evaluate each distinct impression your campaign serves, based on numerous signals that our algorithm takes in.
Importantly, both Maximize Conversions and Target CPA will make bid adjustments based on conversions that are Included in Total (you can find out more about setting up conversion events here).
Example
If you choose a daily budget of $200, Taboola will automatically set your bids to reach as many conversions as possible at the lowest cost within that budget. Some days may see a cost per acquisition of higher or lower than your target, but the daily spend will be consistent.
This is due to natural fluctuations in our network - matching your campaign with the right signals that will generate conversions at your acquisition costs. Bid adjustments are made in real time, and per individual impression. This includes individual publishers, platforms, contexts, among others.
How do I set up a Maximize Conversions campaign?
You may update your Bidding Strategy from multiple fields. The following instructions indicate how to opt into Target CPA when editing a campaign.
Click on the pencil icon to edit an existing campaign

Go to the

Bidding and Budget

section

Under

Bid Strategy

, choose

Conversions (CPA)

under 'What do you want to focus on?'

Your campaign will then be opted in to usin Maximize Conversions bidding strategy. If you then select the Target CPA checkbox, you can enter the CPA that you would like Taboola to factor in future recommendations, and the campaign will adjust to the Target CPA bidding strategy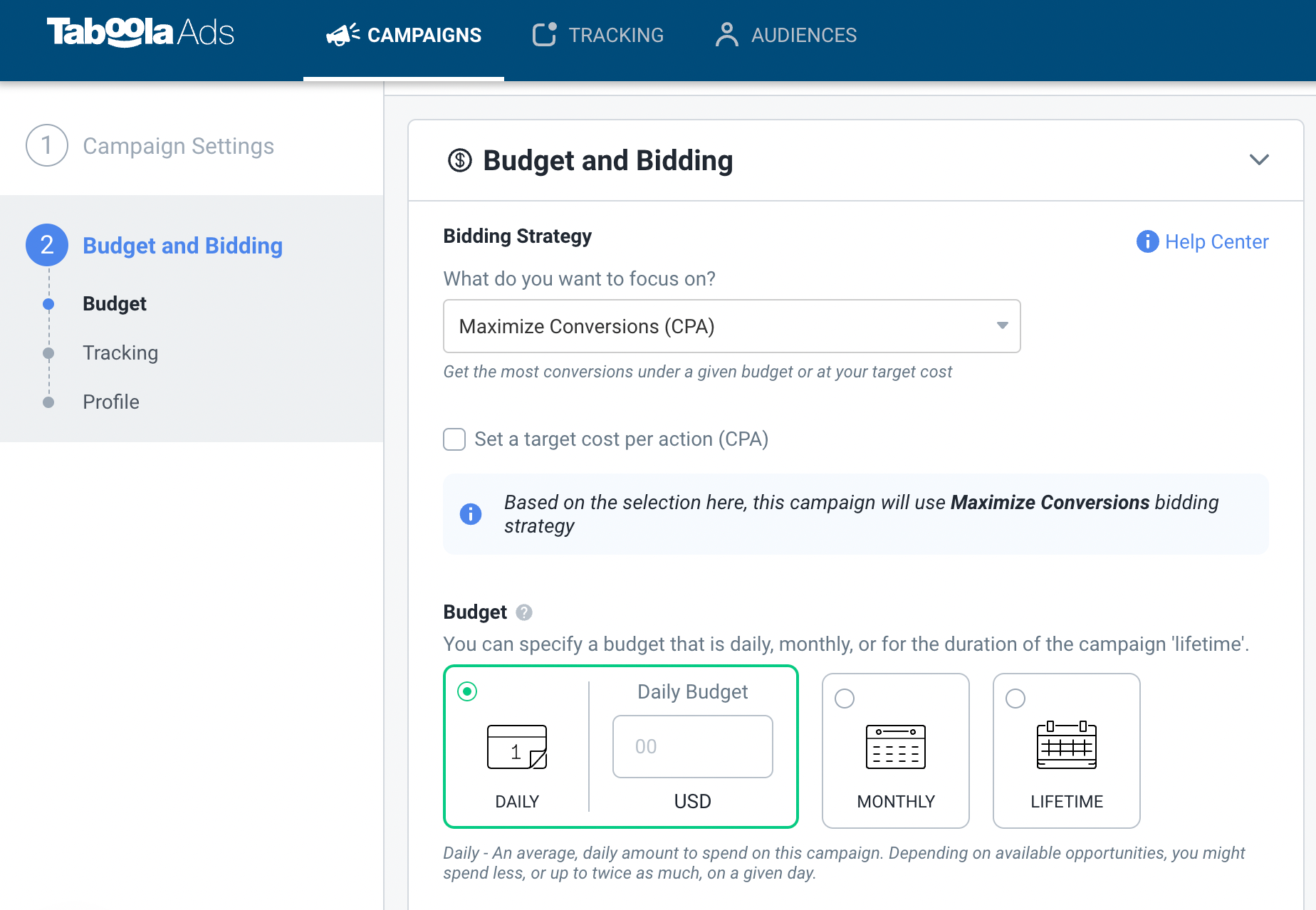 Best Practices
It is best best practice to not optimize a campaign for at least 4-5 days after launching on Maximize Conversions, so that that algorithm can calibrate

The campaign's daily budget should reflect the amount of conversions you are aiming to achieve. We recommend starting with a daily budget of 10X the CPA goal

In order to optimize the campaigns (i.e improve CPA performance), you are welcome to adjust the budget, or add a target CPA should you want to stabilize the conversion costs

When enabling Target CPA, only apply blocks that are made due to brand safety concerns.
Additional Notes on SmartBid with Maximize Conversions
SmartBid works most effectively with the

Taboola Pixel

, which feeds SmartBid with conversion events that help drive better optimizations and improve the bidding mechanism.

You will not be able to leverage Maximize Conversions if you do not have conversion tracking enabled in Taboola Ads.