Taboola Generative AI for Ads:
Empowering advertisers to effortlessly create captivating ads with the help of Generative AI!
What is Taboola's Generative AI for ads?
Taboola is taking the Power of Generative AI (Chat GPT & Stable Diffusion) and offering these cutting-edge tools to you with Taboola's Secret Sauce (Creative Best practices, Tone of voice, Content policy, & Dynamic Keywords etc.) to help you create variations of your ads seamlessly!
We understand that for advertisers right now building so many different creative versions can be time and cost prohibitive for advertisers. Taboola is utilizing the power of Generative AI to make it easier for advertisers of all sizes to benefit from creative diversity in their campaigns.
Discover your potential performance on Taboola with Generative AI!
Where can I find this tool?
We are glad you asked!
Taboola's Generative AI for ads right in TABOOLA ADS. Our top priority is to be a Consistent, Easy-To-Use Platform for our partners which is why we incorporated these third party technologies directly into our platform.
Once you have reached the "Create Ads" step of your campaign set up, under "Set Up" and "Media" you find the Generative AI for Titles, Descriptions and Images, respectively.
Follow steps below to get the best possible outcomes of using the Tool within Taboola Ads:
Titles:
Generative AI for titles can be found under the AI Wizard. Here you can pasted your Landing Page URL. Then check the box next to "Load Product details from Landing Page URL". From there the AI will retrieve answers to the 3 questions listed.
Pro Tip: Make Adjustments to the target audience and the USP in order to receive different titles or to refine the message you are looking to receive from the AI Suggestions.
Once the Questions are filled out (either from manual input or landing page url retrieval) click "Generative with AI" to receive multiple Titles and Descriptions recommendations!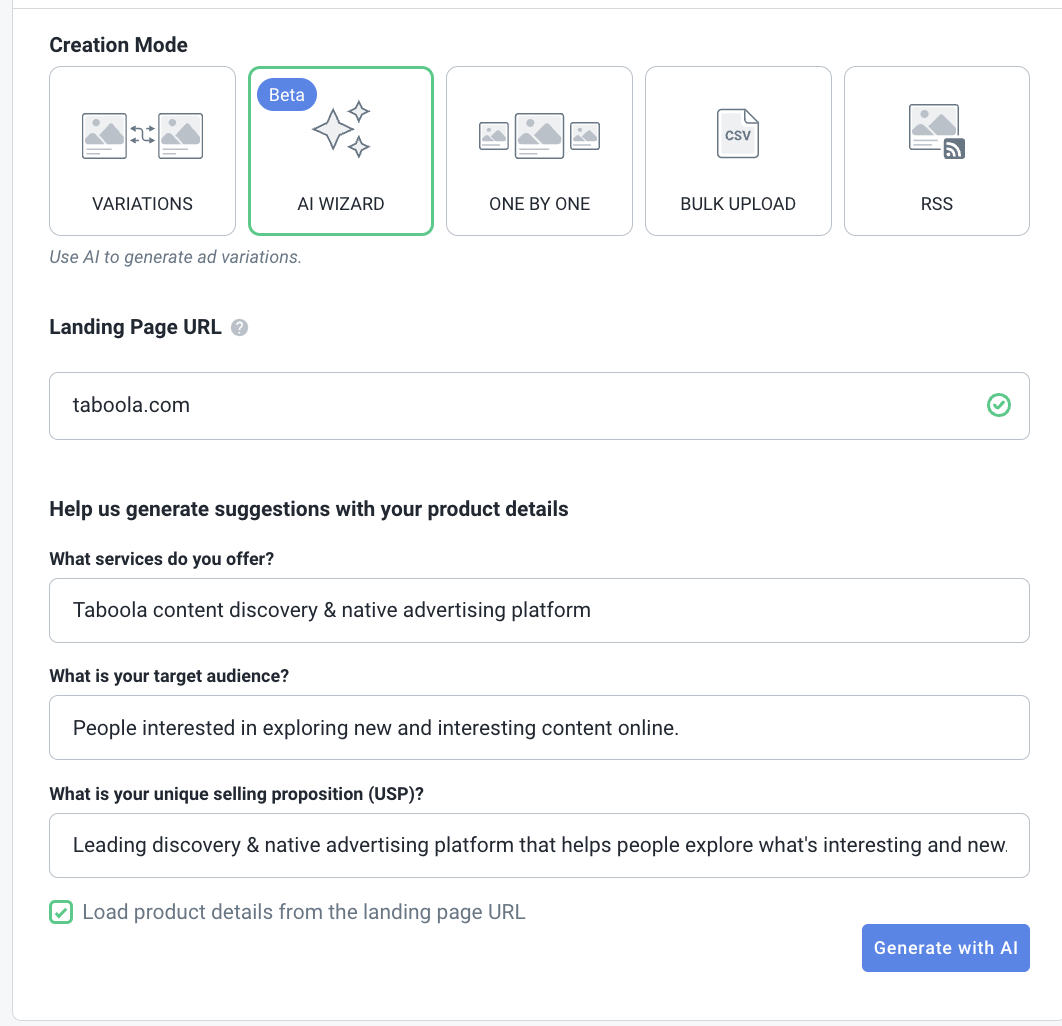 Pro Tip: Click "Show More" to receive additional titles or descriptions suggestions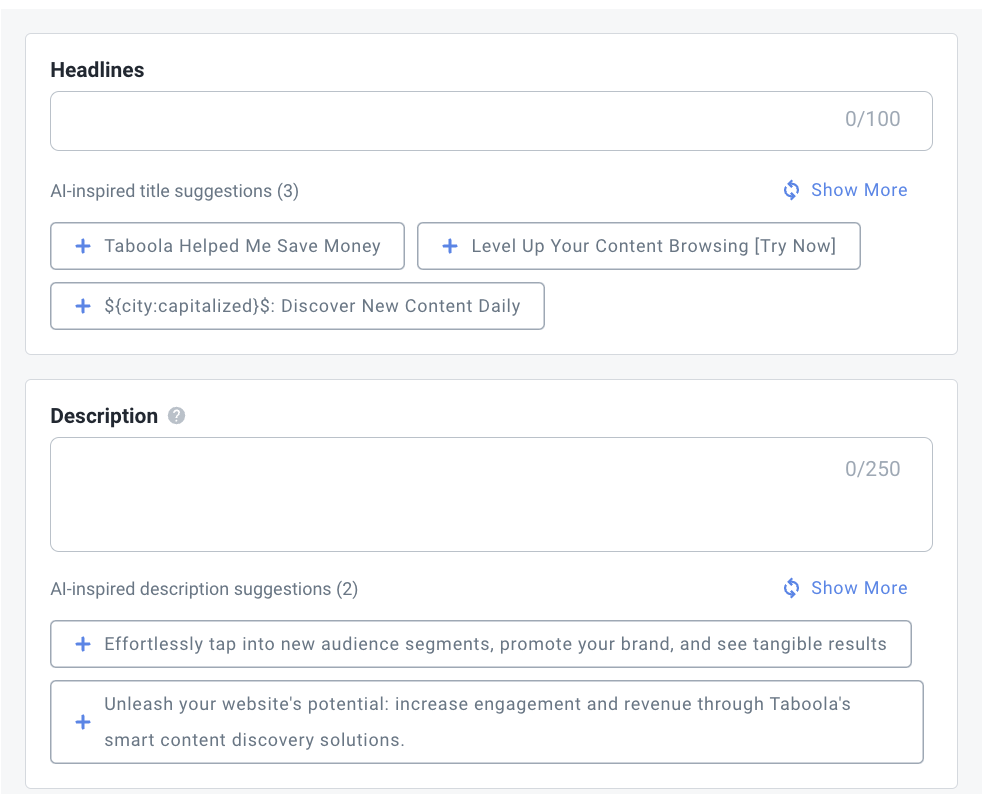 Lastly, Use the "Rephrase" buttons to iterate on existing or new titles!
Images
There are two ways to Use Generative AI for Images in Taboola Ads:
Image to Image:

Add your image to create alternatives with a similar visual language

Text to Image:

Write your own prompt with the assistance of our prompt helper to create a new image
When crafting a prompt that yields exceptional outputs we recommend the following components :
Subject: Specify what should be in the picture, such as an object, man, woman, etc.
Action: Describe what the subject is doing.
Surroundings: Indicate the location of the subject, whether indoors or outdoors.
And remember to consider using our image prompt helpers for additional aspects like focus, style, color, lighting, and emotion to further enhance the generated images.
Pro Tip: Click "generative Images" to receive additional images. The more times you hit "Generative Images" the more refined the output might appear.
Action
Product Limitations
Please be advised that Taboola is utilizing a combination of OpenAI's Chat GPT & Stable Diffusion technologies along with our own Best Practices to generate image, titles, and description suggestions. However, it is crucial to understand the risks and limitations associated with using these third party technologies when utilizing Generative AI in Taboola Ads. Generative AI may produce inaccurate information about people, places, or facts.
By using the Taboola Ads platform and incorporating Generative AI, advertisers agree to assume these risks and limitations. It is recommended that advertisers exercise due diligence, including reviewing and validating any content produced using Generative AI, to mitigate any potential risks or issues.
Taboola Ads Generative AI Disclaimer