Introducing support for bank transfer to Taboola Ads account
Extending the ability to add funds via bank transfer to your Taboola Ads account, eliminating the need for intermediaries and allowing you control over the process.
Please note: This feature is currently in BETA and we will be gradually expanding availability.
Who is it for?
Bank transfer support is available for advertisers who:
Pay using monthly invoices, or only using prepayments
Use Euro as a currency of payment/transaction
Are based in the following countries: Germany, Belgium, Spain, France, Ireland, Netherlands
How does it work?
With bank transfer support, you can easily use your bank account to add funds. Here's how. Upon a payment request we create a virtual bank account, only for you, that you can use for the transaction.
You also have the option to check bank details again from the 'Recent Payments' section on the Payments & Billing page.
Benefits of using bank transfer:
Reduced Friction: Say goodbye to complex payment procedures. Bank transfer allows for a straightforward and smooth transaction process.
Increased Control: You retain complete control over the funding process, allowing you to add funds at any time.
No card requirement: You can add funds to your account without needing a credit card, mitigating the additional credit card charges as well.
How to add funds to your Ads account using bank transfer
1. Navigate to 'Payments and Billing' in your ads account from under the settings icon.

2. Click 'Add Funds' button next to current balance details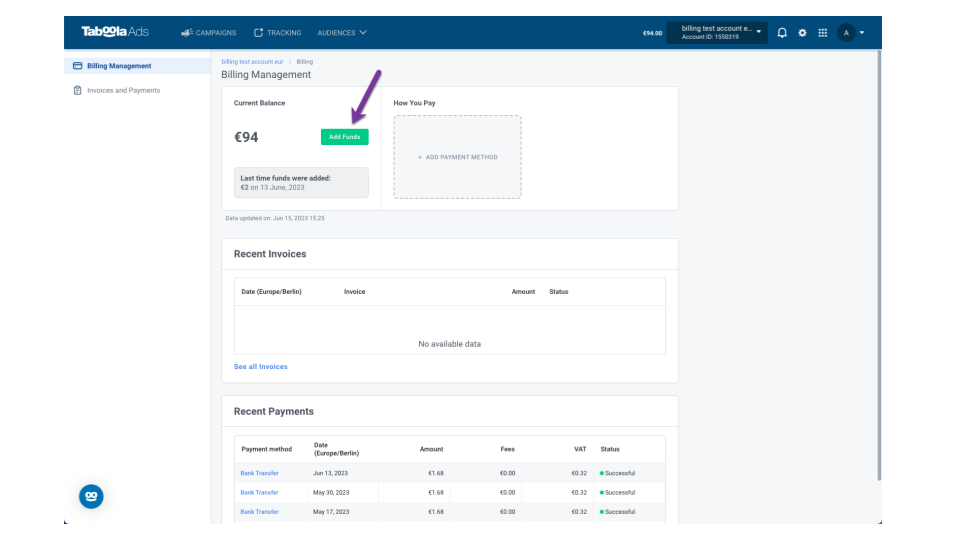 3. From the pop-up, select the payment method as 'Bank transfer in EUR' and specify the amount details
4. Copy the bank account details to make the transfer for the specified amount.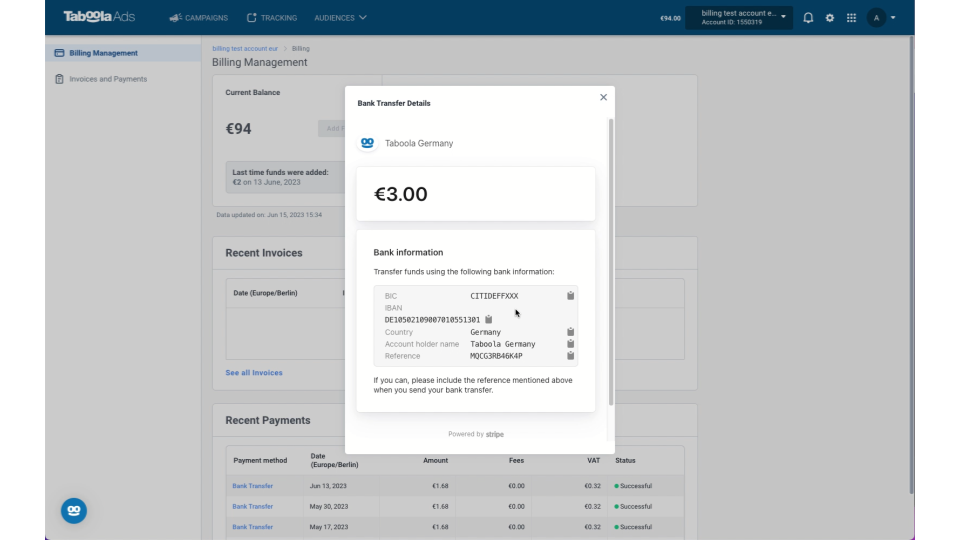 5. Use your bank account to make the transfer to the bank details specified in step 4.
6. Once done, you can check the status of the transaction from under 'Recent Payments'.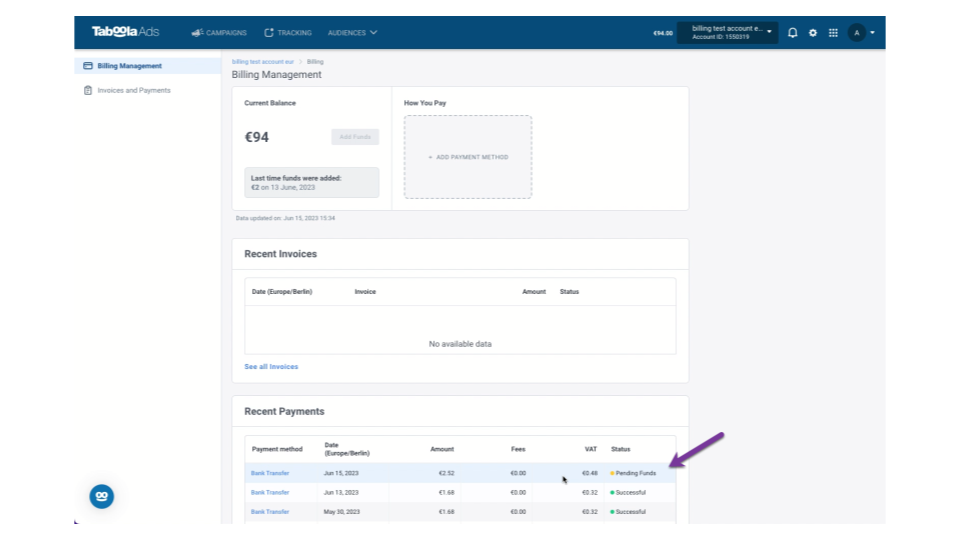 Upon completion, the status changes from pending payment to successful. However, in case of payment failure, the status would reflect as unsuccessful.
Note: To add additional funds, repeat the process by clicking the 'Add Funds'
button on Taboola Ads and then initiate the Bank Transfer for the amount to reflect
in your account.
FAQs:
How soon will a transaction reflect in my account?
A successful transaction may take anywhere between a few hours up to 5 days to reflect in your account.
Is there a way to check the status of a payment process?
You can check the status of your transaction from the 'Recent Payment' section on the Billing & Payments page. Once initiated, the status shows as 'pending funds', and 'successful' once the transaction is complete.
Are there any additional charges?
Yes, VAT will be levied for every bank transfer based on the transaction amount and the VAT policy for your country.
Can I add funds more than once at a time?
No, once a payment is in progress, the 'add funds' button will be disabled. It will be reactivated when the current transaction is processed.
Is it possible to cancel an on-going transaction?
Currently, you cannot cancel an on-going transaction, however, we will soon extend support for the same.