The Taboola Pixel gathers data to give you an understanding of the actions users take on your site. This allows Taboola to put that data to work in order to optimize your marketing campaigns towards desired and valuable actions.
Why Install the Taboola Pixel
Measurement and Optimization

: Tracking clients conversion helps you gather important insights about actions users are taking on your site. Without pixel data, campaigns can only be optimized around your campaign click data rather than optimizing towards all of your conversion events. Share conversion data with Taboola so that we can drive the results you are looking for across the Taboola network.

Audience Re-engagement:

Create and track custom audiences based on page visits, video views or actions.

Prevent Lost Conversions

: Find conversions lost by cookie-eliminating browsers like Safari and FireFox.

Attribution: Implementing the Taboola pixel gives you the ability to measure the impact and return on ad spend (ROAS) for all established conversion events, such as a product purchase, page view, email signup or other actions based on your campaign goals.
In short, creating and installing the Taboola Pixel is an easy, one-time action performed on your site that only takes a few minutes. Complete implementation of the code results in more robust customer data, more effective retargeting and more impactful recommendations.
How To Implement the Taboola Pixel
(Click here for more lessons on Native Advertising with Taboola)
Manual Implementation Instructions:
It's important to implement the pixel prior to activating your campaigns.

As a best practice, it is recommended to implement the pixel code across all site pages, in the header.

Before you can set up and create conversions, you'll first need to create your base pixel and verify that your pixel code is active.
1. If your pixel hasn't been installed yet, go to the Taboola Pixel menu, and select Conversions.
2. Click Create Pixel at the top right of the screen.
3. The instructions for installing the Taboola Pixel code using Google Tag manager are at the top of the following page (read more here). Under it are instructions for manually installing the Taboola Pixel code in your site. Please note that this code should be implemented in the header on all pages of your site (developers notes here).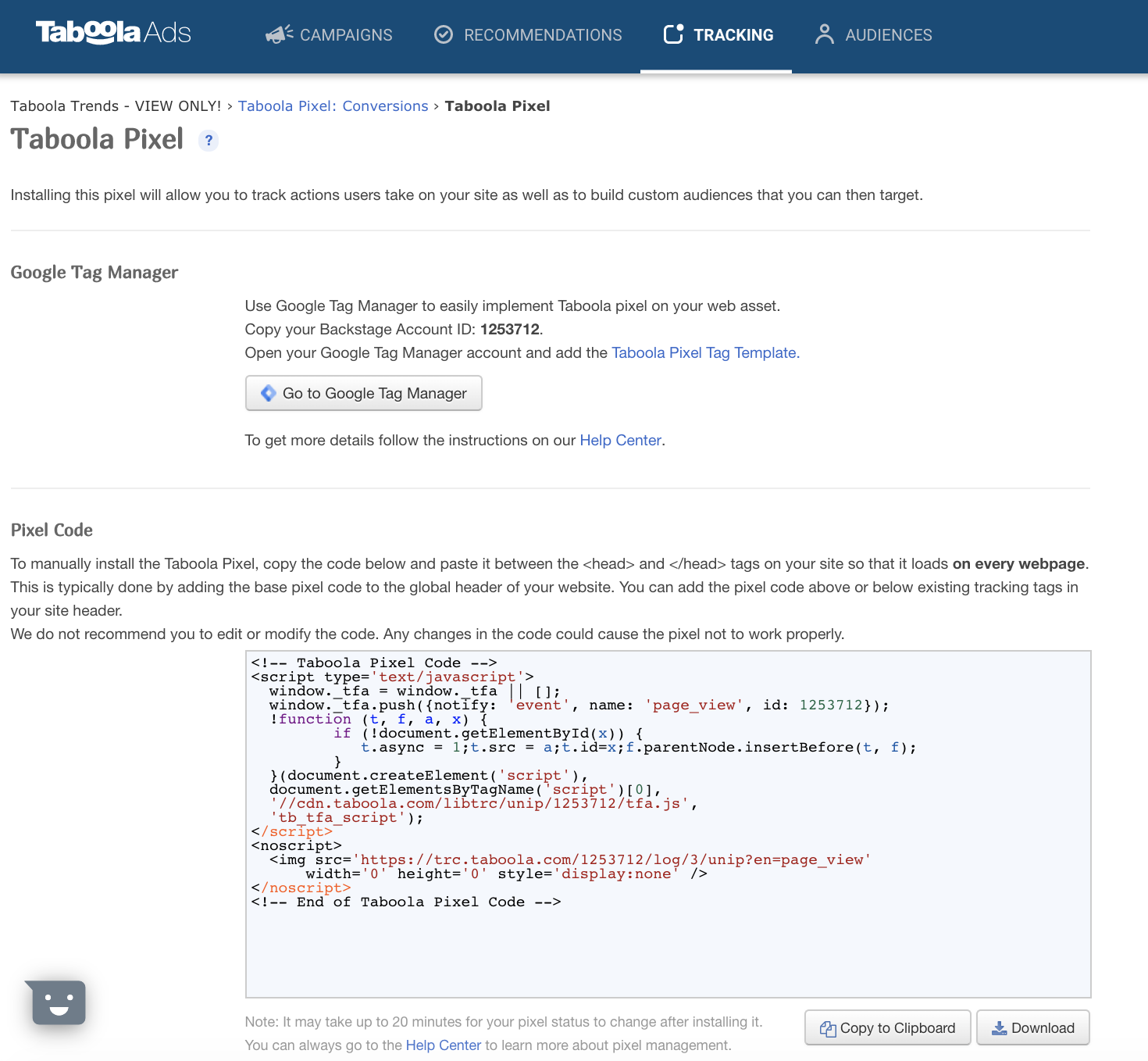 4. Once the pixel is implemented across all of your website pages, it's important to test that the pixel is triggered properly using the Taboola Pixel Helper Chrome Extension, and our troubleshooting article.
5. Now, at the top right of the Conversions page, you'll be able to see the status of your pixel. Please note that several may exist for events, but here we are showing the status of the main pixel. Additionally, it may take up to 20 minutes for your pixel status to change after installing it.


The pixel statuses are as follows:
Create Pixel

- For the first time a user clicks on a status badge.

Waiting for Pixel

- There has not yet been any activity.

No Recent Activity

– This indicates that the pixel was active in the past, but has had no activity in the past 48 hours.

Active

– The pixel is firing properly, with activity reported in the past 48 hours
6. Next, set up and create conversions. Learn how to create them here.
7. See your data in Taboola reports. Learn how to view reporting here.
If you need assistance implementing your Taboola pixel code, our partners can help you implement and manage it on your website. See the exclusive offer here. If you do not have access to the Taboola Pixel screens in Taboola Ads, please contact your Taboola Account Manager or support@taboola.com.
Taboola Pixel Compatibility:
The Taboola Pixel is compatible with Google Tag Manager, Shopify, DoubleClick Campaign Manager, Tealium and similar platforms.
10 mins to implement

Loads asynchronously, does not affect page performance or SEO page ranking

Taboola is GDPR and CCPA compliant - no Personally identifiable information stored

For GTM implementation, please reference our Google Tag Manager Template
You can read more about Pixel Conversions, My Pixel based Audiences, Measuring ROAS