The Taboola Pixel is the engine that drives your campaign's success. The Pixel gathers data to help you understand the actions users take on your website, like page visits , account creation, purchases, and video views. The Taboola Pixel combines this data with our algorithm to automatically analyze how people find and interact with your website. The Taboola Pixel helps you optimize your marketing campaigns for maximum success.
Why Install the Taboola Pixel
Measurement: Track client conversions with the Taboola Pixel more accurately and thoroughly. Use Taboola's data visualizations and reporting to get a more comprehensive overview of where your best activity comes from.
Optimization:

Automate data gathering and analysis by sending Taboola Pixel data to the Taboola platform. Our algorithm automatically analyzes the data to uncover valuable insights and identify areas for improvement. You can also use pixel data when manually optimizing your campaigns (like optimizing your targeting by traffic source).
Retargeting: Create and track customer audiences based on page visits, video views, or actions to increase brand awareness and conversions. The Taboola Pixel identifies users who've already visited your website or specific pages and shows them your campaign items again.
Track Value:

Track more than just cost per action (CPA) and conversion rates (CVR) with the Taboola Pixel. It'll help you factor in order value to

track return on ad spend (ROAS)

of your campaign. For more information, learn about

Taboola's attribution model.
The Taboola Pixel is an essential tool for any Taboola platform customer. You'll gather more robust website user data, learn how people interact with it, and make data-driven decisions. It's easy and quick to set up, and loads asynchronously so it doesn't affect your page performance or SEO page ranking. Plus, the Taboola platform doesn't use or store personally identifiable information, making it GDPR- and CCPA- compliant.
How to Set Up the Taboola Pixel
The quickest way to set up your Taboola Pixel is through the one-step Google Tag Manager integration.
STEP 1
Navigate to the Tracking tab in Taboola Ads and click on Tracking Setup
Note: If you don't have access to the Taboola Ads dashboard, contact your Taboola Account Manager or email support@taboola.com.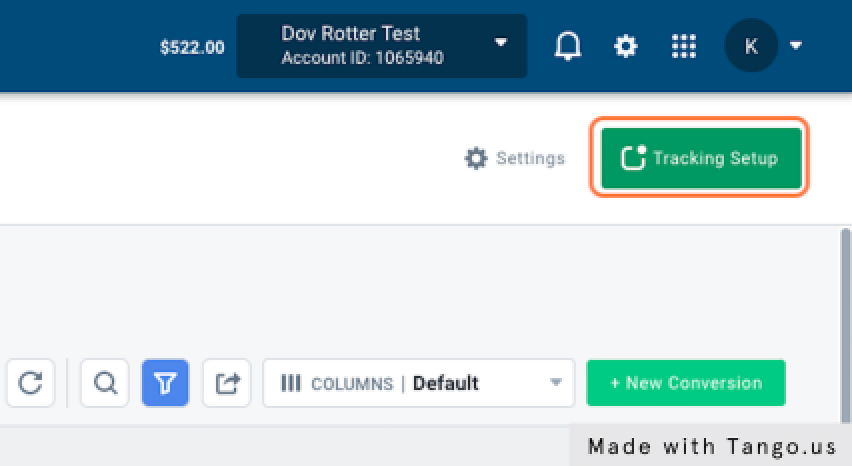 STEP 2
Select Google Tag Manager (recommended) and click continue in the bottom right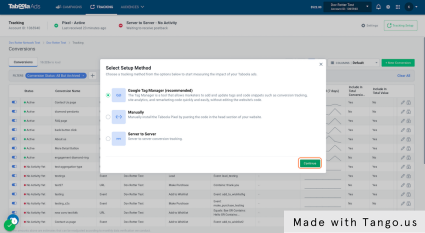 STEP 3
You will now get to the set-up page. Click on Click To Connect. Here you can automatically connect to your Google account.
STEP 4
Once you have connected to your account, your account, container, and workspace will automatically be filled. Feel free to click on the drop downs to select others.
STEP 5
Select the relevant container
STEP 6
Select the relevant workspace
STEP 7
Once you've completed this step, you can click save and go to create your conversions
STEP 8
When navigating the Tracking tabs in Taboola Ads, you will see that the Pixel will be active after you have completed the GTM integration.
Note: If you only want to configure the pixel on a few pages, you should follow the manual integration process.
Note: If you are using Google Tag Manager or other compatible tracking platforms, refer to Taboola Pixel Compatibility.
To learn more about defining conversions for the Taboola Pixel, refer to these instructions.
Installing the Taboola Pixel Manually
The Taboola Pixel works best when installed across all pages of your website (like in the header HTML code) and before activating your marketing campaigns. This way, it can track users seamlessly everywhere on your website and help you see success faster.
In your Taboola Ads dashboard, click Tracking.

Note: If you don't have access to the Taboola Ads dashboard, contact your Taboola Account Manager or email support@taboola.com.

Click Tracking set-up and select the second option Manually. Click continue.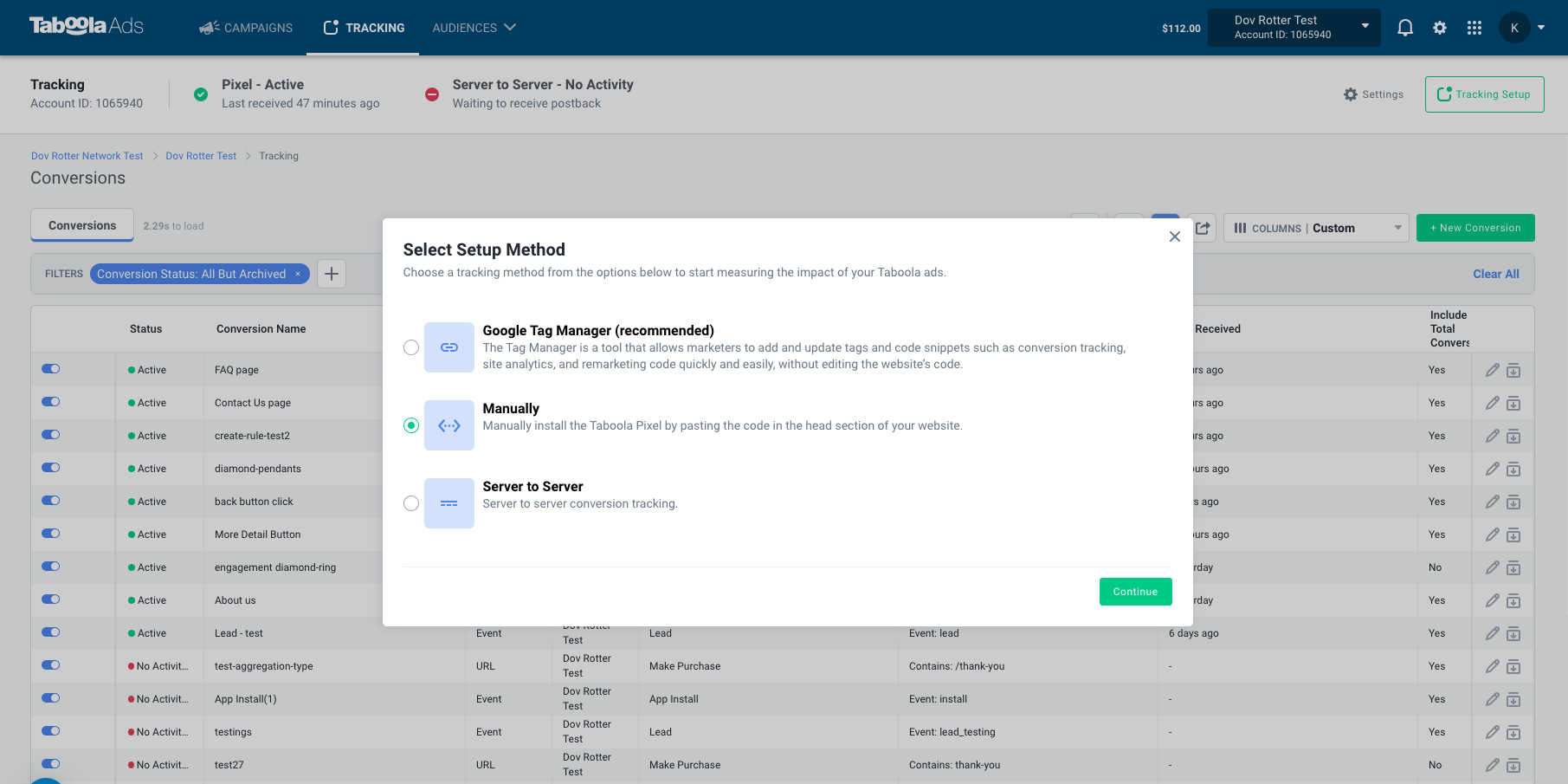 3. Here you will be able to download the pixel code. Then you should follow the instructions on step 2 and copy and paste the code into the header of all the pages on your website. For more information, refer to the Developer Notes.
You can also easily send detailed instructions and the code to any email by clicking on the 'Select Email Address' button: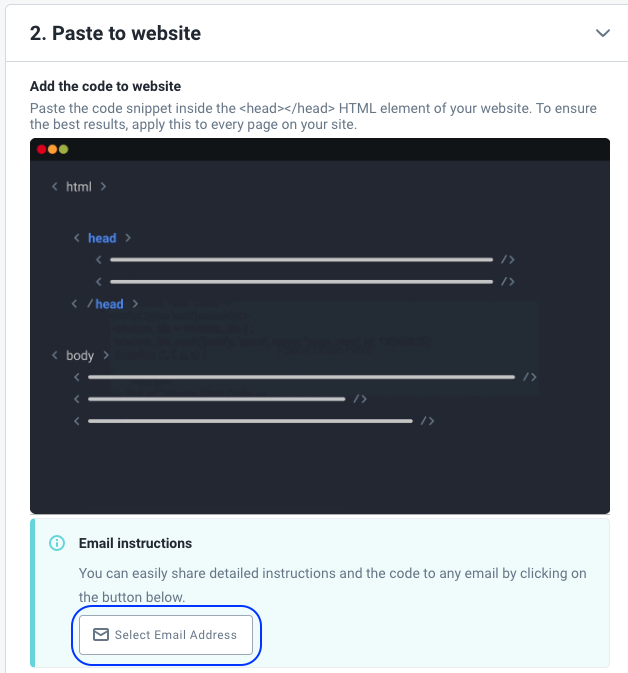 4. Once complete, the Taboola Pixel should now be installed on your website. To complete installation and start gathering data, you'll need to define your campaign conversions. To learn more about defining conversions for the Taboola Pixel, refer to these instructions.
With the Taboola Pixel placed and your conversions defined, you are ready to start optimizing your campaigns! Learn how to use reporting here.
If you need assistance implementing your Taboola pixel code, see this exclusive offer from our partners.
Taboola Pixel Compatibility
The Taboola Pixel can be implemented manually via the HTML code of your website, or it can be integrated with various popular site or tag management tools like Google Tag Manager and Shopify (with more being added regularly.)
For details on integrating the Taboola Pixel with:
If your site or tag manager isn't listed here, contact your Taboola Account Manager or email support@taboola.com.
How to Troubleshoot Your Taboola Pixel
The Taboola Pixel may not work correctly if it's not installed properly or if conversions have not been defined.
The first step in troubleshooting is checking if it's been installed correctly.
Checking for Proper Taboola Pixel Installation
When your pixel is installed correctly, you'll see a Pixel status on the Tracking page in the top bar of the page:

Waiting for Pixel: No user activity.
Create Pixel: The first user click of a status badge.
No Recent Activity: Pixel was active more than 48 hours ago.
Active: Pixel is active within the past 48 hours.
If you're stuck with a Waiting for Pixel status or need more help, refer to Installing the Taboola Pixel Manually or the Developer Notes.
Testing Taboola Pixel Triggers
If your Pixel is installed correctly, you've defined conversions, and it's still displaying the Waiting for Pixel status, it's possible there is something wrong with the trigger.
The Taboola Pixel Helper extension for the Chrome browser is a useful tool in identifying trigger issues. Refer to this article for help on installing it and using it for troubleshooting.
You can read more about Pixel Conversions, Advertiser-Owned Audiences, Measuring ROAS