Taboola is committed to providing our customers, users, and partners full transparency with respect to our services. This Trust Center provides information about the ways that you can control your experience with the Taboola Network and how we ensure compliance with best industry standards. If you have any questions that aren't addressed here, please reach out to us at support@taboola.com
Interest-Based Advertising

What is Interest-Based Advertising?
Interest-based advertising shows you ads that are likely to be of interest to you.
These ads are tailored to your interests and preferences, which advertisers determine based on your browsing behavior over time, across different websites, browsers, or devices. For example, if you browse a website for travel tickets to Costa Rica, and you later browse a different website, you may see ads for hotels and activities in Costa Rica, which are personalized based on your earlier browsing history.
The digital advertising industry has created privacy standards for online ad companies to tell you what kinds of data they collect from you and how they use your data. Taboola is a member in good standing of the following industry groups, and adheres to their self-regulatory standards:
The Digital Advertising Alliance's (DAA) Self-Regulatory Principles. Learn more here.
The Interactive Advertising Bureau's (IAB) Self-Regulatory Principles for Online Behavioral Advertising (OBA Framework). Learn more here.
The Network Advertising Initiative's (NAI) Code of Conduct. Learn more here.
For more information about our collection and use of data for interest-based advertising purposes, please click here.
How to Opt Out
Taboola supports initiatives to offer you greater transparency and control over the use of your data. Therefore, if you do not want Taboola to serve you ads and content based on your past browsing history, you can disable such ads by visiting our Opt Out Portal.
---
Industry Participation & Compliance
Taboola has always believed that digital journalism and content discovery should be supported by honest and non-disruptive advertising. Holding on to this belief, we have become valued partners with thousands of the world's top publishers and advertisers and we have collaborated with and participated in a number of privacy and digital advertising industry groups that have helped shape our own best practices.
Commitment to Best Advertising and Privacy Practices
Best in Class Disclosures
Taboola has implemented stringent disclosure guidelines to ensure that before you click on a piece of content on our network, you can easily determine where the content is coming from and whether it is sponsored by an advertiser. We require that all sponsored content include the name of the sponsoring company and, for certain product types, the product category, to help you better understand the source of the content.
Report Inappropriate Content
"Taboola Choice" offers you the ability to control, in real-time, what you see on the Taboola platform and helps you block individual pieces of content that you dislike. We encourage you to alert us if you see anything that you find to be deceptive, fake, or harmful. To do so, when you see a questionable item in Taboola's platform, hover over it and you'll see a small "x" icon in its top right corner. When you click this icon, select from the list of reasons what best describes why you've chosen to report this content. Once reported, you will never see this item again, and our Content Review Team will thoroughly review it and either confirm that it complies with Taboola's Advertising Guidelines, ortake all necessary actions to ensure that it is removed from our network.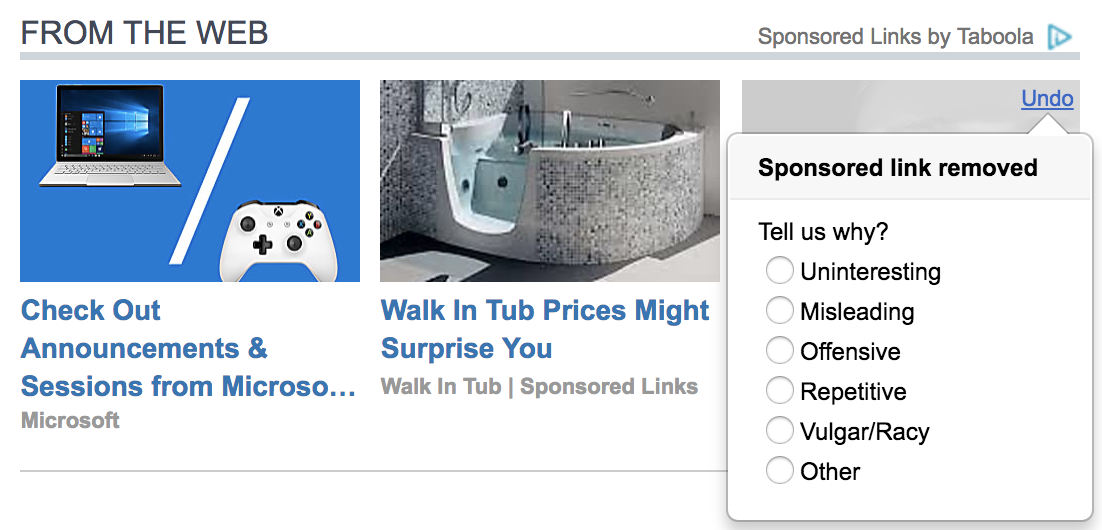 Copyright and Intellectual Property
If you suspect that any content on our network may violate copyright or intellectual property laws, please reach out to us at copyright@taboola.com. Additionally, in the United States, owners of copyrighted works who believe that their rights under U.S. copyright law have been infringed may also take advantage of the Digital Millennium Copyright Act of 1998 (the "DMCA") to report alleged infringements, by following the procedures listed here.
---
Advertising Guidelines

It is important to us that we honor your trust by maintaining content quality and safety across our network. Therefore, all content that runs on the Taboola Network must comply with our Global Advertising Policies, which you can review here.
Global Content Review
All content that we distribute is first manually reviewed and categorized by our Global Content Review Team. This team includes international content reviewers who are fluent in many languages and familiar with diverse cultural nuances. Their core mission is to ensure compliance with our Global Advertising Policies, and that nothing has inadvertently been miscategorized.
Advertising to Children
The Children's Online Privacy Protection Act, ("COPPA") governs websites and ad content targeted to audiences 13 years old or younger. Similarly, the EU's General Data Protection Regulation ("GDPR") generally limits the processing of data belonging to users under the age of 16. Because Taboola is unable to obtain meaningful parental consent before we serve our Content Discovery Platform, we do not provide our services to websites that are intended for children 13 years old and younger in the U.S. or under the age of 16 in the EU.
Fake News
Taboola has taken a strong stance on banning "Fake News" from our network. We appreciate the impact that our content has on our audiences and value the integrity of all content on our network. We take this responsibility seriously and we do not tolerate content that intentionally confuses readers or that appears to be news or editorial content, when instead it is truthless propaganda or an advertisement.
We have spoken at great length about our efforts against the distribution of fake news on numerous panels, in the Financial Times, and on Taboola's Blog.
Fraud Detection and Invalid Traffic
We take fraud seriously, and know that any infractions damage the quality of Taboola's recommendations. To ensure that our advertisers target the right users on the best quality websites and digital properties, Taboola has a dedicated global Anti-Fraud team that manually reviews and automatically monitors for invalid traffic. This includes fraudulent clicks and impressions that might not be the result of genuine user interest (e.g., mechanically generated "click fraud" or "bot fraud").
---

Privacy at Taboola

We are dedicated to providing you with the highest level of transparency and control over the data we use for personalized online advertising.
Privacy By Design
Taboola's products and services are designed to minimize the collection and use of your data. Taboola has built data protection compliance into our processes and systems from the ground up. To do this, we have ensured that our employees, engineers, and design teams have a solid understanding of Taboola's data protection obligations. This also includes that the concept of "Data Protection by Design" — or ensuring that any new products, services, or systems are designed to minimize the personal data that we collect — is embedded into our product development process, and considered from the outset and throughout the life cycle of our products and services.
Global Privacy Training
In the spirit of Privacy by Design, we appreciate that all members of the Taboola family need to understand how to minimize, identify, and protect personal data. As such, our privacy team conducts regular in-person and video privacy trainings for all Taboola employees, instructing each to protect privacy in their relevant roles and to understand Taboola's global protocols and data protection obligations.
IAB Europe Transparency and Consent Framework
Taboola's privacy team continues to be actively involved with the IAB Europe's GDPR Implementation Group, where we collaborate with others in the industry and helped develop the IAB Europe's Transparency and Consent Framework. This Framework provides you with greater transparency into, and control over, the use of your personal data, and allows you to express your preferences about how companies may process your data.
Taboola is a Global Registered Vendor of the IAB EU Framework. This means that when you first visit your favorite websites and apps in the EU, some will ask whether you agree that your data can be used to personalize your browsing and advertising experience. When you give or deny this consent, the website or app will let Taboola know, and we will respect your choices by only making recommendations in compliance with your privacy rights. This doesn't mean you won't see Taboola's discovery platform anymore, it just means that our recommendations won't be tailored specifically for you (and instead they'll be determined by the website you're visiting and other contextual factors).
If you are a Taboola publisher and would like more information about how to integrate with Taboola via the IAB Transparency and Consent Framework, please review our guidance, here.
Security
Data Security
We value the security of your data and have taken steps to help protect it from loss, misuse, unauthorized access, disclosure, alteration, destruction, and any other form of unauthorized processing. Taboola is ISO27001 and ISO27701 certified and uses these industry-standard specifications to ensure data security. Our security posture is evaluated on an ongoing basis and when cyber intelligence shows a change of risk levels, the security posture is updated accordingly. Please be aware, however, that no measures can guarantee 100% data security.
---
GDPR

The European Union's (the "EU") General Data Protection Regulation (the "GDPR") harmonizes data protection laws across Europe and gives individuals within the EU better control over their personal data and the ways that organizations may use it.
Taboola's View on GDPR
At Taboola, we have spent significant time and resources to prepare for the GDPR and to help our partners and others in the industry do the same. We have taken this opportunity to assess our global data operations and ensure that our processes meet best practices and transparency standards.
Taboola is optimistic about the long-term benefits that will result from our preparation for the GDPR. Because the GDPR offers users with new opportunities to communicate their preferences, in the long run, it will have provided the digital advertising industry with an important opportunity to better understand its audiences.
We understand that part of being an industry leader is helping the industry through new and complex circumstances. The GDPR is exactly that, and we are proud to have invested in preparing, better understanding, and discovering exciting opportunities to come in this new era of transparency.
How has Taboola Prepared to Comply with the GDPR?
Here is a summary of just some of the things Taboola has done to prepare for the GDPR:
Internal privacy team became Certified European Privacy Professionals (CIPP/E)
Trainings and awareness sessions for all global employees
Appointed a Data Protection Officer
Assembled a multidisciplinary internal GDPR task force comprised of members of our executive, legal, privacy, business, product, IT, data, and R&D teams
Gained a full understanding of where personal data lives in our systems
Introduced an updated Privacy Policy that reflects our obligations under the GDPR
Made necessary technical changes to our services enabling us to support the GDPR's requirements and enhanced data subject rights
Implemented appropriate safeguards consistent with the GDPR to enable the transfer of data out of the EU and any processing to occur lawfully outside of the EU
Ensured that our data processors provide sufficient guarantees to implement appropriate technical and organisational measures to ensure processing meets the requirements of the GDPR
What Data Does Taboola Collect From its Users?
For a full description about the data we collect and how we use that data, please visit Taboola's Privacy Policy.
Who Should I Contact About GDPR Compliance and My Relationship with Taboola?
For more information about Taboola and the GDPR, please contact us at privacy@taboola.com.
To learn more about the GDPR, specifically, please visit this official website from the European Commission..
---
CCPA
The California Consumer Privacy Act (the "CCPA") is a state-level privacy law that aims to provide California consumers with greater controls over how their personal information is collected, used, and sold by companies.
How Has Taboola Prepared to Comply with the CCPA?
Here is a summary of just some of the things Taboola has done to prepare for the CCPA:
Taboola's California Consumer Rights Portal

helps California consumers access, correct, update or delete their Personal Information in real-time.

Taboola provides CCPA-required notices and disclosures to California consumers in the Taboola Platform (Feed and Widget) with additional information in our Platform Popup Disclosure, which all appear at the point of collection on our partner publisher's websites and digital properties.

Taboola supports the IAB CCPA Compliance Framework and IAB Technical Specifications for CCPA Compliance Framework. While Taboola, as an independent business with a direct relationship with our California consumers, is not a signatory to the IAB Limited Service Provider Agreement, we do honor all IAB "Do Not Sell" signals passed by our publisher partners as if the user instructed Taboola directly.

Taboola continues to exercise the best practice of data minimization and undertook a comprehensive review of our data practices and eliminated certain data uses to ensure effective data protection and CCPA compliance.

Taboola implemented CCPA appropriate website disclosures, and outlined specific California rights in our Privacy Policy and Cookie Policy.

Taboola has implemented CCPA specific Data Processing Addenda to supplement our agreements with our advertiser clients to allow Taboola to act as their "Service Provider" (as defined in the CCPA).

Taboola has implemented various CCPA specific Data Processing Addenda to supplement our agreements with our suppliers, demand partners, data partners, and online vendors, to ensure they act as Taboola's "Service Providers" (as defined in the CCPA).
What Categories of Data Does Taboola Collect from California Consumers?
For a full description about the data we collect and how we use that data, please visit Taboola's Privacy Policy.
Who Should I Contact About CCPA Compliance and My Relationship With Taboola?
For more information about Taboola and the CCPA, please contact us as follows. If you are a Taboola Customer, please reach out to your designated sales representative for specific-CCPA guidance. If you are a California consumer, please visit Taboola's California Consumer Rights Portal, or contact us directly by email at privacy@taboola.com.