Smart Bid
Smart Bid is an automated campaign bidding strategy that utilizes platform data to bid effectively on impressions that are most-likely lead to conversions for your campaigns.
These bid optimizations are based on the marketing objective that you have selected and aim to maximize the conversions which are included in your "Total Conversion Value."
Starting from a baseline campaign bid you decide on, Smart Bid uses historic network data to automatically optimize bids of each impression, based on how likely they are to capture conversions -- bidding more on high-value impressions, and less on impressions that are less likely to lead to conversion.
Smart Bid then ensures that you are bidding the lowest amount required to win any impressions by reducing all winning bids to match the bid of the second highest bid.

Benefits of Smart Bid:
Leveraged network learnings

: The Smart Bid engine operates according to performance learnings of more than 500 billion monthly impressions. The deep learning algorithm takes into account historical campaign performance of similar campaigns - along with user data and context - and then produces a CPC bid based on the likelihood to convert.

Efficient, incremental scale

: With the ability to run optimized bids across all 20,000+ sites on Taboola's network, Smart Bid increases your campaign reach exponentially - with less risk.

Maximized conversions

: Smart Bid maintains competitive bids on the sites and audiences that are most likely to drive conversions for your marketing objectives, enabling you to

easily and

automatically adjust bids to get the most conversions across our entire network. Smart Bid prioritizes higher conversion rates, at scale. On average, we see that campaigns running Smart Bid generate over 50% more conversions at similar costs to Fixed Bid.

Reliable Optimizations with Dynamic Bid Strategy: on an ongoing basis, Smart Bid runs a back-end A/B test comparing the Smart Bid versus Fixed Bid strategies in real time.

Smart Bid will then only utilize automated bidding when it will outperform the results of fixed bidding.

This means that optimizing any Smart Bid campaign can be simplified to just adjusting the baseline campaign bid according to scale.
Lowest Cost Bidding: Smart Bid will always reduce winning CPC bids to match the second highest bid for that auction. This results in lower CPAs (costs per action) and more conversions over Fixed Bid campaigns.
How to Implement Smart Bid
Go to the

Campaign Management

page, and click

New Campaign

.

In the

Bidding and Budget

section, for

Bid Strategy

, toggle on

Smart Bid

.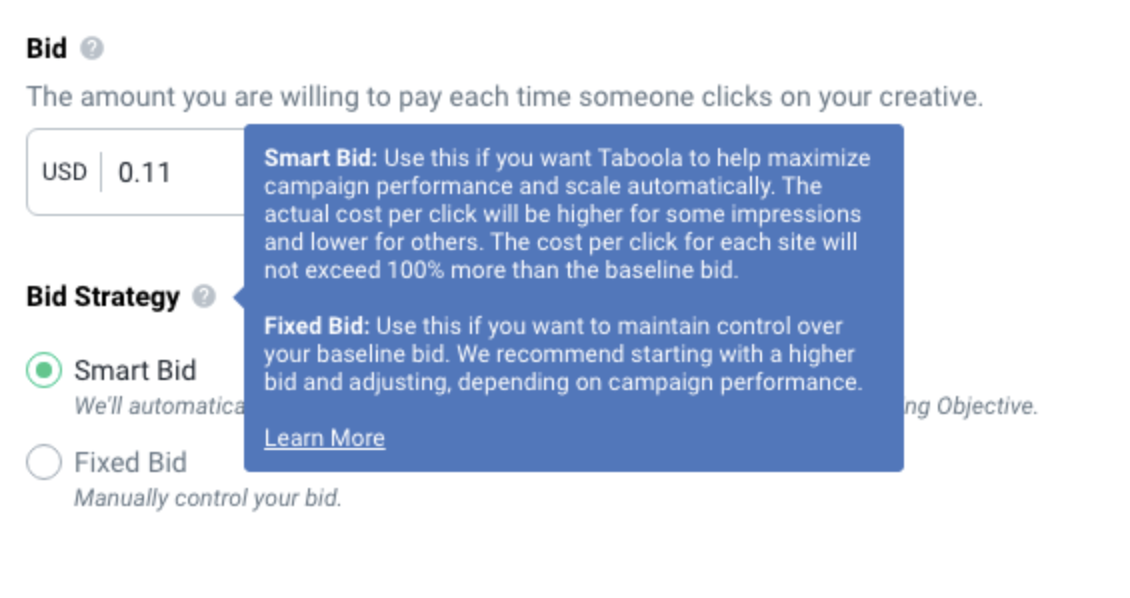 Blocked By Smart Bid
As well as adjusting your CPC per impression, Smart Bid will block publishers in the cases where we see a publisher is not the right fit for your campaign and is unable to generate conversions at a comparable CPA over a long time period.
These blocks can be manually removed in the by-site tab if you do wish to override them.
Additional Notes on Smart Bid
Smart Bid works most effectively with the Taboola Pixel, which feeds Smart Bid with conversion events that help drive better optimizations and improve the bidding mechanism.

The actual Cost per Click (CPC) may be higher for some sites and lower for others. The maximum CPC for each site will not exceed 200% over the baseline bid amount. However, if your campaign is eligible for expedited learning, the CPC might exceed the 200% range. You can learn more about Expedited Learning here.

We recommend applying Smart Bid when you launch a new campaign, or clone an existing one. Note that Smart Bid will be the default setting when you launch a new campaign.

You will still be able to adjust bids per site. Making a manual adjustment to a site's bid will adjust the baseline bid for that site, and Smart Bid optimize according to that adjusted baseline bid for that site.
Fixed Bid
Fixed Bid is a bidding strategy that leaves future bid optimizations in your hands. Unless adjusted otherwise, such as in the by-site tab of your Campaign Summary, the bid you input will always be the bid price paid.