Achieve your Conversion objectives with a short video asset.
About
Video Sponsored Content (or Video SC) is a creative ad strategy designed to achieve conversion objectives by using a short video asset that runs in Taboola's sponsored content placements.
When To Use Video Sponsored Content
Video Sponsored Content is proven effective at increasing conversion rates due to the visually appealing and eye-catching qualities of video, coupled with Taboola's powerful technology. We highly encourage all advertisers that are using video assets to achieve conversion goals on other platform to test Taboola's Video SC solution (see below for testing best practices) given the valuable performance improvement that video assets deliver.
Building a Video Sponsored Content Campaign
Video SC campaigns are set-up following the same steps as any other, static image based campaign with Taboola, with a few changes. See below for more details!
A video file is uploaded in a place of a static image:
Then you add a default image to accompany the video file item; the default image is required and will display in the event that the video file cannot be run, because of the publisher or the environment.
TIP: When choosing a default image, select the best performing static image from your existing Taboola campaign!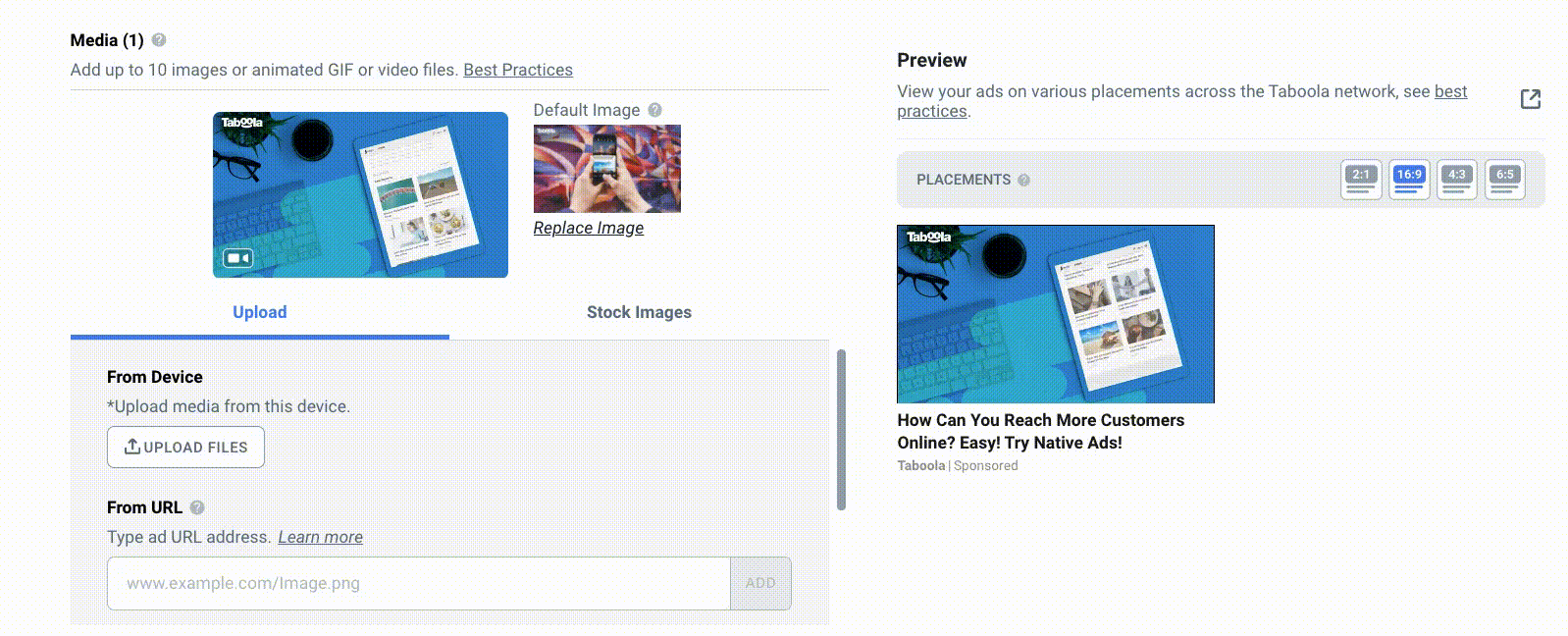 Best Practices
Video SC has no sound and will continuously loop the video

Choose a video that makes sense without sound

No text on the video is better, but the video can work with text if removing is not an option

Check the file format and aspect ratios are compatible with the shared specs

There are some scenarios where we can't serve the video and instead need to serve an image

Use your best performing image from your static SC campaign
Do not use a freeze frame of the video; we see much better performance when a separate image is used
If you do not know what your best performing image is, or the campaign is new, then use the image you would select if this was a static SC campaign

Video SC should be optimized like any other Taboola SC campaign

Adjust the site bids- increase for low CPA sites and decrease for high CPA sites once enough activity has occurred
If you see ads with high CPAs:

First look if you have ads that are performing much better for CPA; if so, pause the high CPA ads and more traffic will go to the higher performing ads
If you need to pause a large number of ads, consider creating new ones so the campaign doesn't lose scale too quickly

You don't need a new campaign to test video; it can be added to a live campaign
If you have multiple videos to test, then run them in one campaign with the same headline, descriptions, and/or CTA Button to measure performance
Specs

Aspect Ratio

16:9 (Best Practice), 4:5

File Type
MP4, MOV, GIF
Max File Size

MP4, MOV: 50MB

GIF: 5MB

Pixel Resolution
1000x600 or higher
Max Video Length

15 Seconds
General
Video Sponsored Content should not be confused with Taboola's Branding Video solution; these are separate products intended for very different audiences and marketing objectives. For more information about Branding Video, which is built for driving Awareness, please see the Branding Video section here, or reach out to your dedicated Taboola team.
Reach out to your Taboola contact for more Best Practices and any additional information on Video Sponsored Content.