When you run your campaign on Taboola, you will have the option to both target and review your traffic by the browser that your users are navigating the Taboola Network on - providing you with granular insights and controls to optimize your open-web performance.
Reporting
What does this report show? - Found under the "Platform" filter, this report will show you the performance of your campaigns by the browser of the users that clicked on your ads.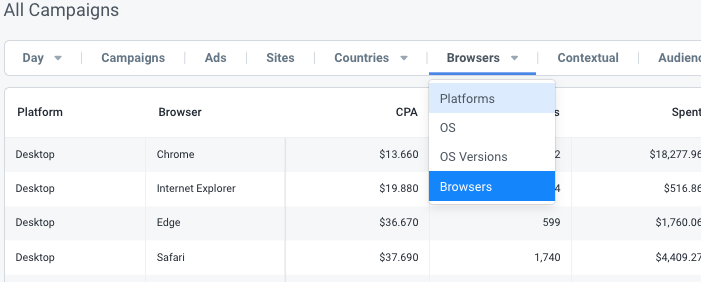 How to Use This Report:
To inform targeting decisions

- If a browser is significantly outperforming others, then this report can highlight when to separate it into its own campaign with a higher CPC to get more scale from the strong performing browser.

To Identify areas to improve tracking – Some advertisers who have not implemented the recommended javascript Taboola Pixel will see decreased performance on cookie-blocking browsers. For more info on implementing the pixel to resolve this issue, see here.
Targeting
What is Browser Targeting?
Target or exclude users based on the browser that they clicked on your ad from. This gives you granular control over the users you deliver your ads to, and is especially useful for when you are advertising a browser-specific product like a Chrome Extension!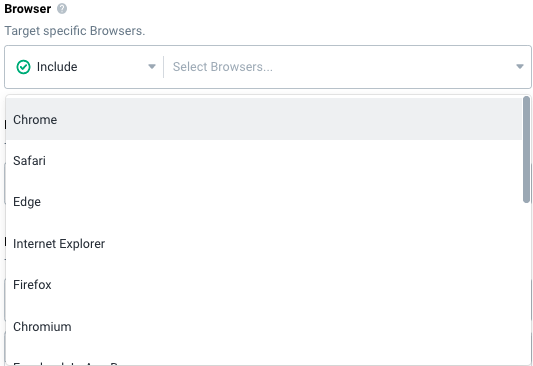 The browser families can be targeted or excluded by creating a new campaign or editing an existing one. You can target browsers like:
Chrome

Safari

Facebook In-App Browser

Edge

WebView

Samsung

Firefox

Internet Explorer

Opera

Yandex


Amazon Silk

Android App

Chromium

Google Search App

and more...